Home Condition Survey
Buying a house is a major investment. One that you really need to make an informed decision about. That's exactly what the Home Condition Survey allows you to do.
It's a striking fact that around 70% of homebuyers do not commission any form of independent survey on the property they purchase. Which?, the consumer agency, estimates that undertaking a condition survey could save homeowners thousands of pounds–in some cases, as much as £10,000.
The Home Condition Survey is delivered by a qualified and licenced Home Inspector, who at the same time can produce an Energy Performance Certificate if required. It gives you a plain English, jargon-free report on the condition of the property using a simple 1-2-3 rating guide. You will understand any risks or unforeseen expenditure that could crop up when you are settled in.
Your Home Condition Survey means you will know all you need to know about the house you're about to buy.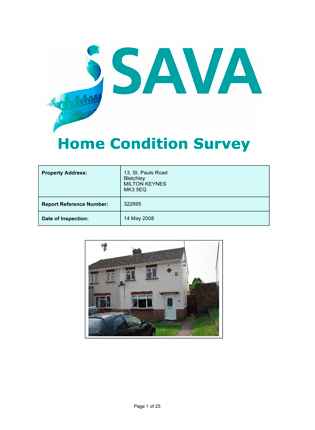 Who can produce a Home Condition Survey?
The HCS can only be produced by fully qualified and accredited members of SAVA –an organisation which trains and accredits the work of surveyors. Homebuyers can be assured of a comprehensive report produced by a professional, trustworthy individual.
Your Home Condition Survey Will:
•    Identify any major problems with the home you are buying
•    Highlight any hidden areas of possible concern that need further investigation
•    Give you a simple 1-2-3 condition rating of all key aspects of the property
•    Deliver a comprehensive and jargon-free report
•    Help you plan for future expenditure
•    Be carried out by accredited and comprehensively trained surveyors
Your Home Condition Survey will tell you about:
•    Building condition and defects
•    Any structural movement
•    Damp, rot and woodworm
•    Heating and electrical services
•    Alterations
•    Drains
•    Environmental issues
•    The reinstatement cost you need for building services
The main aim of the report is to tell you about any defects that need urgent attention or are serious. It also tells you about things that need further investigations to prevent damage to the structure of the building.